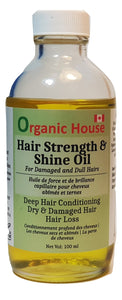 Hair Strength and Shine Oil
Description : 
Synergy blend of precious oils that gives hydration and prevent breakage for anti-frizz shine.
Why to use : 
An exclusive hair serum that uses a carefully crafted oil blend. Perfect for a relaxing and nourishing head massage. This oil penetrates the scalp to work on deep-conditioning from within. The amalgamation is highly effective in improving blood circulation, which stimulates hair follicles leading to conditioning of damaged hair and also leads to faster hair growth. An extremely versatile oil, helps in preventing UV damage, restores hydration, fortifies and provides luster to the hair.
Ingredients that matter :
Olive Oil, Coconut Oil, Jojoba Oil, Apricot Kernel Oil, Sweet Almond Oil, Argan Oil, Castor Oil, Lavender Oil, Rosemary Oil, Peppermint Oil and Vitamin E
** We only use USDA or Ecocert certified organic Ingredients. All our products are free from Parabens - Phthalates - Sulfates - SLS - Silicones.
 Concerns : 
Deep Hair Conditioning | Repairs Dry Damaged Hair | Prevents Hair Loss
Directions for Use : 
Gently massage on your scalp and hair. Keep it overnight or 40-45 minutes and rinse hair with mild or herbal shampoo. Repeat it 2-3 times a week
We recommend patch testing before using the product. All products are created for external use only. Please store in cool dry place .
Size : 
100 ml