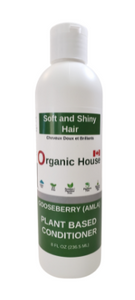 Plant Based Conditioner - Gooseberry (Amla)
Description : 
Our all new plant based Gooseberry - Amla conditioner is curated with all natural, organic and active botanicals . This conditioner works with Gooseberry shampoo to makes the hair soft, shiny and full of volume. 
It is free of parabens, petrochemicals, synthetic fragrances and colors. Suitable for all hair types.
Ingredients that matter :

Gooseberry Extract
Aloe Vera Juice
All our products are free from Parabens - Phthalates - Sulfates - SLS - Silicones
Concerns : 
Hair Strength | Hair Shine | Hair thickness and volume
Directions for Use :
Post the Shampoo wash, apply conditioner on the wet hair. Avoid application on the roots and scalp. Leave it for 2-3 mins and then rinse with water.
Size :
8 oz